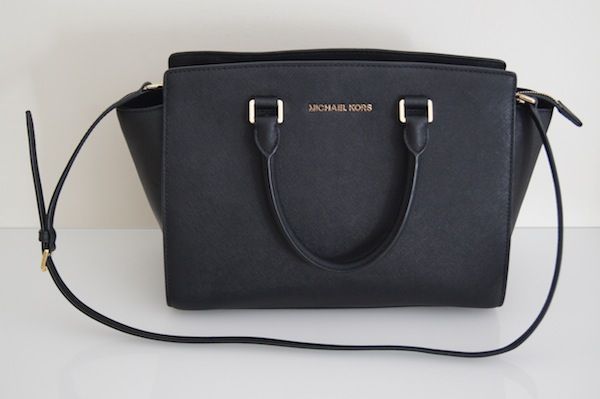 I have been meaning to put up a 'What's in my bag?' post for about two years. I know that a lot of these posts contain old receipts and random bits and pieces but I like to clean my bag out everyday so it stays pretty organised. The bag that I have been using almost daily for about eight months is the
Michael Kors Selma
. The first photo was taken a while ago, I wish it still looked that clean!
I always carry around both sunglasses and an umbrella as the weather can be very unpredictable in Sydney. This
Cath Kidston umbrella
has been in my handbag for two years which amazes me considering most of my past umbrellas have only lasted a few months before breaking. It is small which makes it perfect to carry around but also means that when it rains I still get a bit wet.
The pen is one of many my dad has given me from the Langham hotel, it is one of the only pretty pens I have that has blue ink (I much prefer blue ink!). The contents of the
Cath Kidston pouch
have changed since
this post
so I might do an updated post soon.
The
Michael Kors Wallet
was a recent birthday present and I love that it matches my handbag. The final things I carry in my handbag are my iPhone (not pictured) and iPad.
It doesn't look like that much but my bag always feels heavy.
Follow White Winters